Beitbridge Rural District Council in partnership with Three Ways Safaris donated 40 Samsung Galaxy Tab4 Tablets to Chitulipasi Secondary School on the 2nd of August 2016 in line with the government policy of steamatising learners .i.e. teaching and learning of science and technology. the donation of these tablets is meant to drive the pupils from the traditional science and technology inquiry method of revisiting or browsing old and obsolete textbooks.
                                                                                                                                                                  The tablets that were donated to Chitulipasi Secondary School by Mr T Van Der Merwe of Three Ways Safaris
                                                                                                                                                               A representative from the District Administrator's office hands over the Tablets to the Headmaster of Chitulipasi Secondary School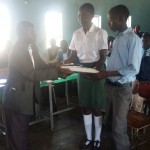 Headman Tsetana of Chitulipasi community hands over the tablets to the students at the school…..
SOLAR PANELS THAT POWER UP CHITULIPASI SECONDARY SCHOOL